A Notorious
Review
First off let me say that this is lengthy, if you're not interested enough to read the whole thing then I'd advise you not to even start, it will take a while.
Ok, well, I have to say that as the McGregor vs Diaz fight ended, initially I felt genuinely heart broken. Which logically speaking is a bit ridiculous, but I can't divorce myself from the emotional investment I have developed in what is truly one of Ireland's national heroes.
Having been an ex-fighter of sorts myself, when I watch Conor McGregor fight I find that my body, mind and emotions go through the same things as when I used to fight. Every time he wins I feel a similar elation that used to accompany a personal victory in the ring, even though the only thing I personally conquered in watching it was the TiVo box.
Although, I've now found out that this is a double edged sword. As it turns out, the thrill of victory isn't the only thing I experience in vicarious 3D technicolor when Conor fights. His defeat on this occasion took me back and reminded me of that particular brand of agony as well.
With the fight itself I feel there are still many positives that can be taken home from this performance. For starters he stepped up an incredible 25lbs in weight from his last fight and fought a much bigger guy who, on his day, could be champion himself at this higher weight!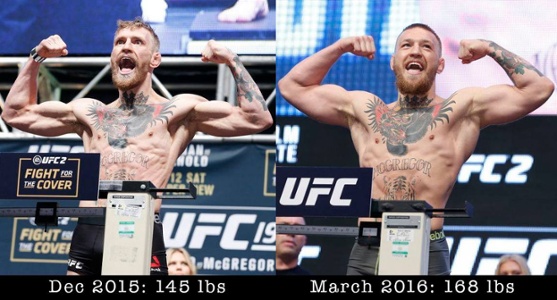 This was also just 12 weeks after the dual with Aldo. All right, the Aldo fight was very fast, but the pressure on Conor's body and mind making that weight and getting in there amongst all the hype was great, a bit of a longer break might have been better (hindsight is always 20/20 though).
Also on the bright side, he was clearly overpowering the much larger man for the entire first round, and was also controlling things nicely in the second right up until he got tagged. I objectively had him in a handy lead right up until that point.
So what went wrong? Well, as anybody who knows anything about fighting will tell you…it's not that simple. This result will lead to tonnes of people the world over turning expert analyst overnight. But it's all pie in the sky conjecture and faceless opinion. I'm not gonna pretend my opinion is any different or any better than the rest but for those who may care here it is.
Firstly, well done to Nate Diaz, he's as tough as a coffin nail, has cardio for days and kept his composure exceptionally well under intense pressure both outside the Octagon and eventually inside it as well. Conor busted him up big time in that first round landing BOMBS from every angle…and Nate took it!
Therein lies one of the significant factors involved. The immense power of McGregor failed to have the same effect on the much bigger man, but facing a foe about 7″ taller and 25lbs heavier than your normal opposition (eg Chad Mendes) has a way of doing that to your power.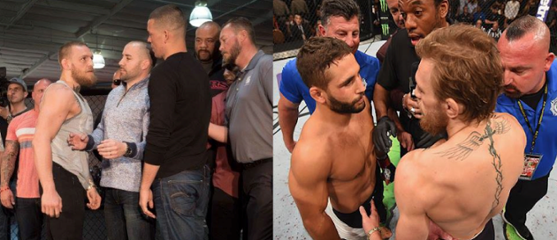 Diaz was also harder to get to due to the height and reach advantage. Height and reach are advantages at the best of times, but when for several fights/years YOU have been the one with this advantage it's even harder to overcome when you suddenly don't have it (I can speak from personal experience in this regard actually). Especially if you've spent an entire training camp preparing for a short guy 15lbs lighter.
Nate's extra size wasn't the only thing that helped him take Conor's power, he's a seasoned striker who's used to sparring with professional boxers, this makes you harder to hit and more durable when you do get caught. Punching up to this degree also takes a lot of sting off your own shots due to both the biomechanics involved and the absence of gravity's aid. Plus, Nate has an incredible base of aerobic fitness, thus speeding recovery when he does get hurt, which he DID in this fight, for sure!
As a former fighter and strength coach to fighters, I could tell seconds into the fight that at the very least Conor was in for a long night when he landed flush a couple of times and Diaz took it well. I can't speak for Conor, but I have also found myself in THIS position (albeit at a much lower level and in a different fight sport) and personally I found it very disheartening. When you stop everyone inside the distance, when guys normally fall over when you nail them, you start to expect it. So when one day someone doesn't get the script you start to try and force it…this will burn out your fitness in a hurry! I can personally attest to this also.
The way I interpreted it, Conor went looking for the KO, expecting it, maybe he felt he had to fulfil the first round prediction thing, I don't know so it's just speculative. But he clearly put a lot of effort into trying to get Diaz out of there in the first round and it left his cardio with an unfamiliar debt that it couldn't repay on time.
Another possible impactor on Conor's cardio was suddenly competing at a body weight vastly above the weight he's use to competing at. Was this a factor? Well, once you've established a V02 MAX and anaerobic threshold at a lower body weight then suddenly gain a lot of weight very quickly, (or aren't used to exerting yourself in a fight environment whilst carrying extra pounds) both values will drop accordingly as the heart automatically has to work harder than it did before to do the same jobs.
Also, even extra muscle tissue itself comes at a cardiovascular cost to the body as it necessitates the need for increased oxygenation. It takes time to adapt to this cost and effectively change extra muscle from a liability into a commodity. I believe Conor puts a lot of effort into his strength and conditioning sessions, but are these sessions programmed optimally and did he have enough time to develop maximum metabolic efficiency at this much higher body weight, I would guesstimate no.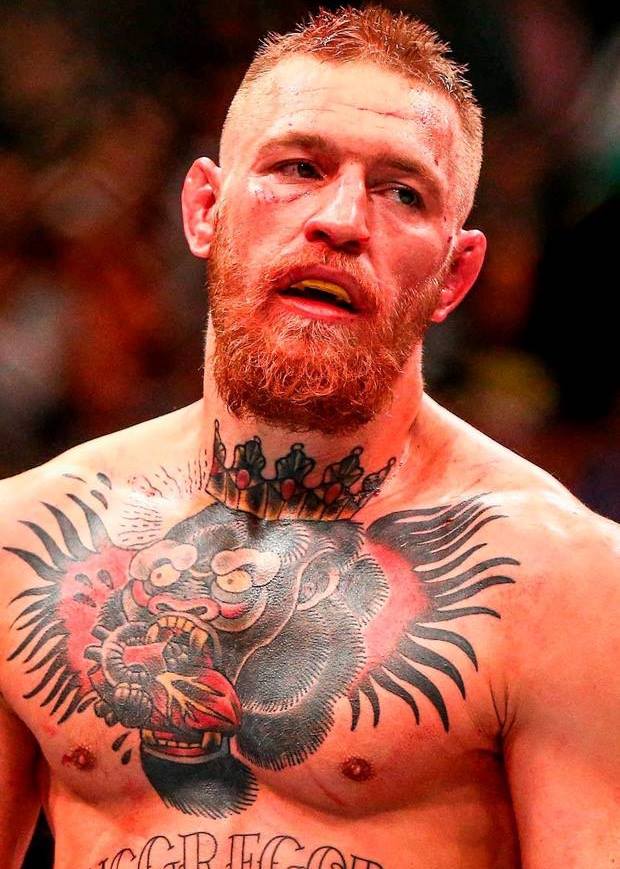 But, having said that, for me the biggest factor came from one subtle technical error. Despite great head movement in the first round, as the fight wore on he seemed to somewhat abandon this and kept leaning to his own left, loading up the back foot, looking for the big left hand over the top, without much regard for what that was setting him up for. Not only did this become predictable and easier to time, but exposed the entire right hand side of his jaw to a long, accurate southpaw striker. I was screaming at the TV for him to get his right hand up, or bring his right shoulder round to cover his chin as he leaned to the left, or to jab more to disguise the big left and disrupt Diaz's own left over the top.  In fact he threw maybe four or fives times as many big left hands as he did jabs. If this ratio were reversed it could be speculated that he would've expended less energy, took less punishment and had a more devastating effect with the big shots he did throw. Although, it's really quite easy to see all this from the safety of the sofa, but a tad harder when you're actually in there…as I also know firsthand.
Southpaws aren't used to fighting other southpaws because there just isn't as many of them around. So when they do face each other it's usually either a tentative boring affair or they become more open defensively and one of them gets nailed in a way they normally wouldn't. I think an element of that came into effect here.
One thing I don't want to hear is all this misplaced "his BJJ was bad, Diaz shouldn't have gotten that choke so easily"…really? In your 'expert opinion' this is what you feel? Ok, well I'm far from a BJJ expert but what I saw was Conor very quickly reversing a takedown at the end of the first round, cleverly evading triangle and armbar set ups, controlling position really well whilst dishing out significant punishment to a physically big BJJ black belt! I wish my BJJ was as bad as that.
Getting caught at the end was a byproduct of what preceded it. Conor had just went for a TAKEDOWN against a BJJ black belt…which indicated to me that he had little left at that point and was maybe acting a little in desperation. So it's quite unfair to judge his BJJ decision making at that juncture.
What next? Well, I know that MMA in general, and the UFC most specifically, pride themselves on learning from boxing's mistakes, but I also feel they sometimes fail to adopt some of the good things that happen in boxing.
In boxing, which is a much older (speaking in modern terms) organised combat sport, if a fighter, especially an established superstar, suffers a heavy defeat, he is afforded a few easy confidence building fights to re-establish his mojo. In the UFC I see a lot of good fighters getting ruined through a culture of being encouraged to get back in there immediately after a tough defeat and take on another big fight. Life doesn't work that way! It works in cycles, we must take a step back to become capable of taking two forward, if we fail to realise this we will derail ourselves, this is true in strength training, in relationships, in all aspects of life and yes…especially in fighting!
Never mind 'giving the fans what they want to see' let's do what's best for the fighters, as ultimately what the fans actually want to see more than the super fights, is the fighters involved in those fights firing on all cylinders when they DO face each other! I'd like to see Conor having a few low pressure fights at lightweight against some taylor made opposition. Then take on a bigger fight.
In terms of a big opponent, styles make fights and I still feel he matches up well with Dos Anjos. He's shorter, and a less skilled striker than Diaz. He'd be much easier to hit and his resistance to the power wouldn't be as high (I suspect) due to being smaller and coming from a predominantly grappling background.
I also feel that with a tighter southpaw specific defence, a more robustly developed aerobic base in his conditioning and built up more optimally to Welterweight, he could beat Diaz quite convincingly in a rematch. All the evidence for this can be found in every minute that preceded the final one.