The Amazing 12 – what are you REALLY getting? by Claude Abrams
THERE are thousands of training programs out there. Most of them, to some degree, work. Some work better than others. So why even consider the Amazing 12?
The obvious is the extraordinary changes that can occur to your strength, fitness and physique in a relatively short time (12 weeks) to people of varying ages and body types. There are now countless examples of these transformations that have taken place around the world.
But I think it's most important to look to what or, more specifically, WHO is the wizard with the long red beard behind all the magic.
Anyone can prescribe or devise a fancy workout and then tell you to do it. But the real value of a program or method of training is judged by its results. Nothing else matters.
Until the Amazing 12 went global, only those who trained out of Paul McIlroy's Centaur Gym in Belfast could experience it.
To really appreciate the Amazing 12 (if you haven't been through it – and even if you have), you should understand who Paul is, what he has done and his credentials.
For starters, he is highly qualified. While I know Paul himself isn't impressed by fancy titles, he has a BSc degree in Sport and Exercise Science. He is also certified as a Strength and Conditioning Specialist (CSCS). As an athlete, he was gifted and accomplished in many disciplines: amateur boxing (in a tough and competitive region); track and field; swimming. But probably his greatest success came in powerlifting (bench press, back squat and deadlift). There he won regional, national and then world honours as a junior, setting world records in the process.
For most of us, excelling in one sport is an achievement. But Paul has done it in multiple disciplines.
He still does Strongman training, bends the most impossibly tough nails, runs powerlifting, arm-wrestling and steel-bending clubs and last year (2015) himself competed in the kettlebell world championships in Dublin.
However, as a coach, Paul has, in my opinion, surpassed what he achieved as an athlete. For example, 18 months ago he formed a Girevoy Sport Kettlebell Club, the prerequisite being that the participants had to be athletic but without any previous kettlebell training.
Paul wanted to see how far he could take them and in the quickest time.
Thus far, from the group of seven, there have been 15 national gold medals (two national championships are run each year), two European silvers and one gold and bronze and at world level one gold, silver and bronze. That's highly impressive.
"So I guess the experiment could be deemed a success," Paul told me.
The inspiration for that 'experiment' was the experience Paul had training his wife, who he coached out of their family kitchen shortly after she had given birth by C-Section and having had zero sporting background. With only eight months preparation, she was able to go to Russia and win gold. That's no fluke. Actually, it's undeniably incredible.
Fionnhbarr Toolan in action
The most recent success of Paul's was Fionnhbarr Toolan, one of the group of seven, who captured world kettlebell championship glory in Kazakhstan (October 16). Toolan's programming was devised by McIlroy. "Paul's coaching is world class on so many different levels," he said.
In fact, Paul would regard his work with Toolan as one of the most exciting projects he's worked on.
"It's not just that he has won Irish, European and World titles in the past 10 months, but HOW he did it," explained Paul.
"He beat a Russian and four Kazakhs in Kazakhstan! He also scored the highest jerk total in the championships irrespective of weight class, beating Russian super-heavyweight World Amateur Champion by two points.
"Bare in mind that Fionn is a kid who weighs less than 67k soaking wet and had never done the kettlebell jerk in his life prior to 18 months ago!"
Red Nail
Another great passion of Paul's is the official certified bend of the IronMind Red Nail. Paul is working with three men on this, one being Barry Mairs, who has only been in training for it for FOUR MONTHS. Barry is about to certify and Paul says his progress has been "insanely fast."
The other two are Ben Mattingly, an Amazing 12 coach in Cork, and Adam Johnston. However, Paul has added another dimension to what they are attempting to accomplish.
Captains of Crush hand gripper chart
Dissatisfied with aiming to certify the Red Nail, on the same day they will bid to make a certified close of the Number 3 Captains of Crush hand-gripper. To give this some context, the Red Nail is a feat of extreme strength. Not more than 100 people worldwide have achieved it in the last 21 years and 200 in the past 25 years.
But only ONE man in history has ever officially achieved both on the same day.
To make it even more taxing, Johnston will try to accomplish the Red Nail with an underhand grip, which is regarded as tougher.
As you can probably tell, McIlroy's forte is to take the seemingly impossible, see how he can up the ante and then create a way to make it possible and often relatively easy.
He has been at it for years. The honours roll on for those Paul has coached: Men's Health cover competitions, EAS Body for Life (biggest transformation challenge in the world) winner in 2006. There are many more examples.
Nowadays Paul has scaled things down a little. He spends much of his time caring for his mother, who has fallen ill. He doesn't get to train as often as he would like. So he has to be more selective in where he channels his focus.
"I work with a limited number of athletes in different sports/endeavours, which at the minute includes fighters, powerlifters, arm-wrestlers, kettlebell lifters, steel-benders and grip sport athletes," Paul told me.
"Strength/power and its perpetual progression is my life's passion."
So when you consider what you are getting on the Amazing 12 – the answer is not just the world's best body transformation program that has been churning out success stories for more than 10 years. Perhaps more crucially, you get access to Paul's vast – and I mean VAST – knowledge, experience, savvy and expertise as a renowned training program designer as well as a man who has been champion and created champions.
The Amazing 12 is a culmination of Paul's life's work in the world of fitness, strength and body transformations. Anyone who knows him will recognise Paul has an extraordinary mind and talent for what he does. If you want the best – which is what I did – don't hesitate to sign up with one of the many coaches now around the world.
All of us have been schooled in the Amazing 12 by Paul and supported in our development as coaches by him.
"The Amazing 12 has done an enormous amount of good for thousands of people the world over and that, for me, is a coaching/creative achievement," said Paul. "No amount of weight lifted by me will ever top that.
"The achievements I have enjoyed the most have been the coaching ones – genuinely and hands down. Taking someone from a square one start and putting them on top of the world in some way never gets old. Just that moment of awe, at themselves and what they are capable of, which in some cases they never thought possible…nothing beats that!"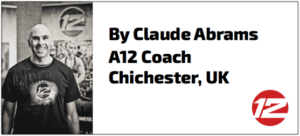 Contact Claude at claude@intelligentstrength.co.uk