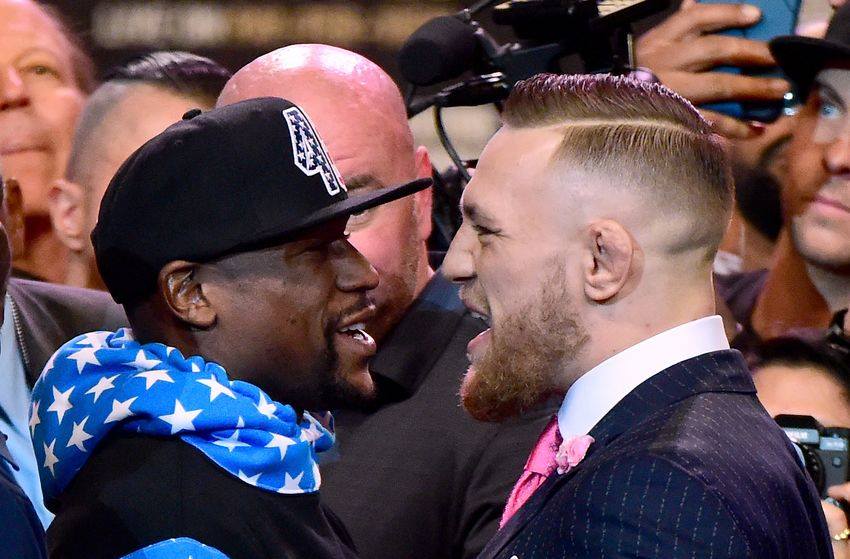 MayMac Cometh! by Paul McIlroy
So, here we stand, at the gates of THEE commercially biggest fight in combat sports history and also possibly the most enigmatic encounter in recent memory if not ever!
Not surprisingly it involves the most successful boxer of all-time, a man who has won 12 world titles in 5 different weight classes, a man who has been boxing for over 30 years, a man who hasn't even come close to losing once as a professional over a 21 year period, and someone who has only been hit solidly on the chin maybe a dozen times throughout his whole career despite having fought ALL the best boxers of his generation.
Conventional wisdom would predict that his opponent in something like this would be someone of equal, or near equal stature within the sport of boxing. As was the case in the now formerly biggest fight in combat sports history, Mayweather V Pacquiao.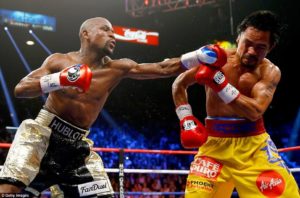 But, rather unfathomably, Mayweather's opponent on this occasion is a man who is making his professional boxing debut!!!!
Now, on face value this would seem to be the most incredibly unfair and unsafe farcical scenario anyone could conjure up. Unfair not only from a "this novice has no chance" perspective, but also from the perspective of all the other world class boxers who have spent 20 plus years of dedicated sacrifice and pain, dreaming of a shot at the best, only to be leap frogged by a guy who's never boxed as a pro.
While I can understand the folks that have taken this stance on the fight tonight, I must respectfully disagree wholeheartedly with them.
Ladies and gentlemen, I'm here to tell you two things:
There is more than one way to legitimately EARN an opportunity.
NOBOBY ends up in a situation like THIS by accident.
Conor McGregor started his combat career as a boxer. He showed great potential for the sport and had a big punch from the start as he fought his way to an Irish Junior National title.  In his professional MMA career so far he has won 4 world titles in 2 different weight classes and became the only person in UFC history to hold simultaneous world titles in two different weight classes.  To win one of these titles he had to face the then pound for pound best champion in the UFC, Jose Aldo. A man who had been undefeated at world level for 11 years in a sport where championship belts change hands faster than the baton in an Olympic relay race due to there being SO many ways to lose a fight in MMA compared to other combat sports.
After 11 years as lb-4-lb king, it took McGregor only 13 seconds to end Aldo's reign of terror and one punch to do it with whilst on the back foot at the time!  He then lost to, learned from, and then soundly defeated a world class fighter TWEENTY FIVE pounds above his weight class before challenging for another world title he wasn't supposed to win and won it anyway with devastating ease!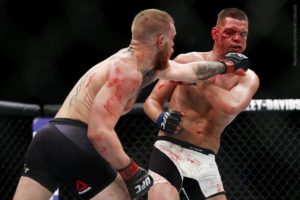 Yes, though a unique blend of superstar fighting talent and superstar personality, young Conor McGregor quickly became the most commercially successful AND literally successful fighter in mixed martial arts history.  Because of this he also became THEE most famous and quite aptly…notorious, currently active combat athlete on the face of the planet bar none!
It's for all THESE reason's that ONLY two men in the world today could actualise a fight of this magnitude at this time, and those two people are Floyd Mayweather and Conor McGregor…period!
What Conor McGregor has done, and the time period he's done it in, has been nothing short of utterly incredible!  He is without dispute one of the world's finest ever examples of how it's possible to achieve beyond your wildest dreams no matter where you are today.
After all, it was just 4.5 years ago he was signing on the dole (i.e. Welfare) and today he is a 4 time MMA world champion in two different weights, the only simultaneous two division UFC world champion in history, one of the most famous athletes on the face of the planet and one half of THEE biggest fight in combat sports history that will see him clear over 100 million US dollars for one nights work!
And THAT my friends…is what 'earning it' looks like!
Now let's take a second to consider the IMMENSE credit that this man deserves for taking on potentially the greatest boxer of All-Time in his own sport in front of what is essentially the entire world watching!!  This takes extreme intestinal fortitude, a rarely seen, special kind of warrior mentality.
As for this "making a mockery of both/either sports" nothing could be further from the truth as I see it.  The VAST amount of public interest this fight has generated has been, and will continue to be, great for the now slightly waning sport of boxing. It has been like an injection of adrenaline into the vain of the sweet science from a public interest perspective. All the extra eyes and extra interest can be nothing but positive for boxing. Equally, if not more so, the HUGE spotlight that this fight has also shone on MMA has singlehandedly brought more new eyes to the sport than any other single act ever has…by a MILE!
In fact, even before this fight the entire sport of MMA already owed Conor McGregor a debt of gratitude for raising EVERYONE's earning potential massively through his own exploits. But NOW, due to this fight, the 'Money Genie' is well and truly out of the bottle for all MMA fighters as a barrier has now been crossed and like every other barrier in human history, once it happens…there's no going back!  The same public that demanded this fight could very well demand more MMA superstars facing boxers for mega bucks (maybe not as much as THIS fight, but an astronomical amount by current MMA standards). This will be appealing to the public for the spectacle of it, it will be appealing to MMA fighters for the money and it will be appealing to boxer's for the notoriety gained and apparent easy payday.
In other words it's an inevitable evolution, and will loosen the one man stranglehold on the sport of MMA that has gone on for too long. MMA fighters will finally be making the money they deserve, ironically through a different sport. This will in turn also FORCE the earning potential in actual MMA fights up all over the world as a direct side effect. Everyone can then form an orderly que and thank Conor one at a time…no cutting line.
Now to the fight itself.
McGregor's Keys to Victory: I've heard a lot of genuine experts suggest that Conor's best bet is to 'Rush Him', throw caution to the wind, think nothing of defence and just adopt the 'take two to land one' mentality. This tactic is usually accompanied by the advice that he needs to try and throw 100 punches a round and overwhelm Floyd with crude, ungainly brawling…I personally feel all of this is deluded.
Conor doesn't fight like that, never has. He's a methodical southpaw counter puncher with great timing and accuracy.  If you want him to throw 100 punches a round for 12 rounds you'd better check if he's allowed to borrow Wayne McCullough's arms first.  Just no, Conor is a devastating sniper that comes out of nowhere and destroys your whole world with one shot…NOT a machine gun.  He's a heavily muscled power puncher loaded full of fast twitch muscle fibres, YES he can get into great CV shape (and he looks as though he certainly has this time), but his skeletal muscles are never going to function like a perpetual motion style fighter's do.
The good news is they clearly don't have too.  Why throw 100 when 1 is usually enough.  Fighters who are built like this should work their conditioning as though they were training to fight at a high pace just to make sure they are fit and strong enough to throw those kind of power shots with as much power in the last round as they can in the first. But not because the intention is to go out and force a high work rate. They need to impose their will and use the fear of their power to help them dictate the pace to represent the highest intensity that still suits them physically.
In other words Conor needs to be Conor, he just needs to be the very best version of what he already is. Because guess what, 6 months to a year isn't long enough to become effective at a completely polar opposite fighting style when debuting it for the first time against a fighter of Mayweather's calibre.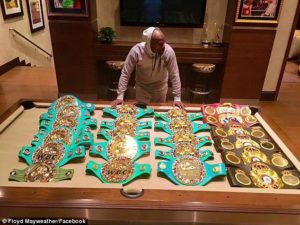 From what I can tell in the video clips of his training, his boxing has improved by a very big margin above and beyond anything he was previously capable of in MMA.  But I feel he should often approach Floyd from a Karate/Tae Kwon Do stance in this fight. He should keep the fight at karate kick range (as opposed to Muay Thai kicking range, which for the most part is the same as punching range due to the emphasis on connecting with the shin and not the foot).  From here there will be a greater relative difficultly for Floyd to land effective punches on a consistent basis.  McGregor will be way more used to closing that distance, with or without kicks, than Floyd will be.  From here, I feel, he should adopt a counter puncher mentality for three reasons:
He IS and always has been a counter puncher.
Floyd is also predominantly a counter puncher, which means he's not quite as effective when on the front foot and it's very dangerous to try to push forward on him without getting nailed repeatedly.
Forcing Floyd on the front foot against a karate stance may be even more awkward for him and allow McGregor's already effective, and now vastly improved, counter punching to be more effective than it normally would against someone like Floyd.
Forcing Floyd to initiate the action will almost invariably result in him engaging Conor with springing lead right hands and looping left hooks.  It's off of one of these trademark Mayweather lead rights that Conor needs to show the best timing and precision of his life by countering with hard left hand leads from his southpaw stance. The Karate stance would place Conor further from Floyd than Mayweather is used to, that coupled with Conor's longer reach and greater experience negotiating this fighting range could buy him the split second of extra time that no other Mayweather opponent has ever had previously.
If you watch Mayweather fight on the front foot, in almost every instance, when he throws the right hand lead coming forward he lifts his chin high at the same time. He gets away with it because his reflexes are so fast and his timing is so good when fighting in traditional punching range, but again, extra striking distance might afford Conor the split second extra time needed to capitalise on this like no one else.
Conor is also taller and has a longer reach as well as being considerably younger and much heavier and stronger in reality. All this coupled with a karate stance and an older, rustier Mayweather than ever before, COULD give Conor the extra nanoseconds required to pull off the seemingly impossible.
Mayweather's Potential Approach: Obviously all this is just a pie in the sky opinion, albeit a somewhat educated one.  But I honestly think that after a feel out round one, Floyd is going to be true to his word and will be aggressively pursuing Conor from early on, trying to put pressure on him with the goal of taking him out.
One of the things that has shocked me when listening to peoples analogies of this fight is their lack of respect for, and general understanding of, Floyd's punching power vs Conor's.  Let me say right out of the gates that I do believe Conor hits harder, but I don't think people fully realise how hard Floyd Mayweather can also punch.  I've heard a few people assert the opinion with certainty that Floyd can't possibly have the power to hurt Conor or end this fight inside the distance.  What they seem to be basing this on is the fact that Conor KO's people quite easily in the UFC and Floyd has failed to stop anyone since Ricky Hatton (who was a very, VERY good fighter and tough, tough man btw).
Ok, again, on face value this assumption appears to make sense but on closer inspection it falls apart fast.  The first thing that we have to look at is the gloves. Hell, it's just plain easier to KO people in 4oz gloves than it is in 10oz. Heavier gloves also have a more depleting effect on your hand speed, power and endurance as the rounds go by, making a fight less and less likely to end inside the distance with each second that goes by, at least relative to lighter gloves that is.
Secondly, in boxing someone can get knocked down multiple times and still go the distance because the fighter is allowed to regain their feet and avail of a short recovery period (great in the short term for the fight, bad in the long term for the brain). In MMA most fighters who get heavily dropped get stopped immediately because the rules allow the fight to continue on the ground and as such referees stop fights at that point to avoid serious damage.
Lastly, and most importantly by far, we must look at who they are hitting!  A boxer, even a boxer of national senior amateur level, never mind upper end world class professionals, who has been getting punched in the head since he was a child by people whose sole endeavour in life is to get better at punching people in the head, can, as a consequence of this, take a far better punch than a college wrestler who has crossed over to MMA and has mostly likely only been punched properly for the first time as adult in their twenties.  Also, the time spent conditioning to being hit isn't the only factor, the quality of how hard and accurately you are being hit is the next thing. MMA guys just aren't punching each other as hard, as often or as accurately as boxers are. Now consider the kind of punch resistance that the men who have earned a shot at Mayweather must possess!
On top of this there is the fact that boxers of any level, especially world class professional level, are FAR harder to hit than an MMA fighter who comes from a predominantly grappling background. So basically in boxing people are far harder to punch in the head than in MMA and when the punches do land they have less effect even when landed by people who can punch harder than MMA fighters.  When you take ALL these factors into consideration it boosts Mayweather's perceived power quite considerably and possible blunts Conor's a bit in a fight like this, against a man like this.
So the effect of Floyd's shots is something NOT to be taken lightly, and Conor should also be ready for the signature one punch KO power that he enjoys in the UFC to not have quite the same effect here. Which I believe he is, considering the shape he's in and the kind of sparring he's been doing (8-12 rounds at a time with a former two time world boxing champion etc).
As far as what else we can expect from Mayweather tonight, I feel Floyd will come forward throwing a lot of lead right hands. Why? Because that's what he always throws, either on the back foot or front. Plus, he is likely to throw MORE lead rights in this fight because it's a good shot against a southpaw. I also see Floyd trying to work the body a lot more than normal in this fight because body shots are one thing that's hard to get used to overnight and it's not something that happens in MMA with anywhere near the same frequency and proficiency as it does in boxing.  Look for a looping lead right hook to the ribs thrown from long range by Mayweather. Also, right uppercuts to the solar plexus on the inside or coming off the ropes. I don't feel he's going to lean down for many left hooks to the body as it exposes the entire right hand side of his head to McGregor's big left. He can still throw this shot but needs to keep his right hand glued to his chin and step out to his own left either before or as he throws the body shot…which I'm sure he already knows.
I also feel Mayweather will pick the pace up a bit every round, putting steady pressure on McGregor, trying to force him to punch more than he'd like to.  The conditioning in MMA, although exceptionally high, is different than that required for a high level professional boxing match. In MMA there are many ways to lose, but there are also many ways to 'rest' if you know what you're doing.  I say rest in a loose sense but fighters will understand what I mean here. You can tie your opponent up and get a rest bite, especially on the ground (once you are used to it and comfortable there).
In boxing, clinches get separated as fast as they happen, as a result of this there is a particular kind of fatigue associated with the non-stop nature of JUST striking constantly with the same limbs over and over and over again.  If not used to it the arms and shoulders burn up FAST, especially under intense pressure from a quality opponent.  I believe Floyd will be trying to engineer Conor into a situation like this, Conor must not let this happen, and he must be patient and do all in his power to maintain his most effective fighting range and pot shot from long range with heavy single and double punch combinations when appropriate opportunities present themselves.
I also feel that Mayweather will target the scar tissue around McGregor's eyes.  Conor is Irish and, much like myself, has quintessential Celtic eyes. Celtic or 'Irish eyes' in boxing refers to the particularly troublesome combination of over lapped loose, fair textured brow skin and a heavy brow bone ridge.  This makes Celts particularly susceptible to cuts over their eyes.  Evidence of this can be found throughout boxing history.  I believe Mayweather may try to target this.
I'd like to finish by saying how much admiration and respect I have for both guys, but particularly McGregor, for stepping into a situation like this with the heart of a true champion against all the odds! It's truly astonishing to think how much of an impact this little country (whose entire population is less than 70% of the Island of Manhattan alone) has had on the sport of boxing and combat sports in general.  It is truly poetic then, that tonight a son of Ireland, Conor McGregor, is set to take part in the biggest fight in combat sports history by fighting in a combat sport that's not even his own, against the greatest champion that sport has ever seen…if that's not the physical embodiment of 'The Fighting Irish' I don't know what is!