Triple G…Not For Me! by Paul McIlroy
"What an outrage" "GGG overwhelmed him" "GGG was robbed" "Canelo boxed well but was totally out worked" "We saw one guy fight and the other guy run"
Really?? Because I don't believe we saw any of that at all. But more on that later, first, allow me to digress for a moment.
The date was April 6th, the year was 1987 and 'The Fight of The Century' awaited, a fight that at the time was the highest grossing event in boxing history.  Long reigning Middleweight King, Marvellous Marvin Hagler, was facing Sugar Ray Leonard for the championship of the world!
I was a kid at the time, but I distinctly remember the excitement for this fight in our household.  I remember my father explaining to me the factors involved in the fight (the weight advantage for Hagler, the 3 year lay-off for Ray), I was anticipating the event all day long and couldn't wait to see it.  My excitement won out over my fatigue and I did manage to stay up and see some of the fight, but I also remember falling in and out of sleep, missing rounds here and there, waking up suddenly and seeing a bit then ultimately falling asleep on the sofa and being lifted up to my bed by my father.
The fight wasn't on T.V super late either, if I recall correctly it was shown the on the following evening at 'a sane hour' on this side of the pond, but it was still too much for my young reserve at the time. However, the next morning when my brother told me that Sugar Ray won, I can honestly remember feeling elated as if somehow 'Good' had triumphed over 'Evil'.
Which may sound particularly odd, but I remember clearly that from my perspective at the time (i.e. that of an imaginative kid) Hagler, with his menacing appearance and affronting demeanour got quickly assigned the 'baddie/ogre/villain' character role in my mind. While Sugar Ray with his friendly appearance and uphill battle style quest got immediately awarded the knight in shining armour, hero character role as he boldly dared to attempt to do the impossible against all odds!
The fantasy in this case, like most others, retains elements of the truth in it, whilst at the same time managing to live quite far from it as well.
In reality both men were heroes in different ways. Both men had reached the very pinnacle of the sport, but both had arrived there through very different routes.
Ray was a former Olympic Gold medallist at light-welterweight (140lbs) and had won professional world titles at welterweight (147lbs) and light-middleweight (154lbs).  But hadn't boxed in 3 years and was taking on someone who had quite possibly become the most feared middleweight (160lbs) champion ever!  .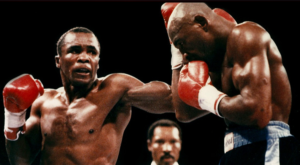 Turning pro on the crest of a wave after becoming Olympic champion, the good looking, young and charismatic Sugar Ray was the kid with the million dollar smile and the 100 million dollar potential.  Ray may well have been one of the most naturally talented boxers of all-time and in truth needed little in the way of 'favours' to get to the top. But, his sterling Olympic credentials, squeaky clean image and charisma ensured that doors opened even faster for him regardless.
Marvin Hagler on the other hand did not have this kind of start to his pro career. He turned pro not to a fanfare, not even to a single party popper or balloon holding 8 year old. Instead, Marvin turn pro in obscurity and had to tirelessly fight his way to visibility by taking on all comers, which proved harder than you'd think, not because of Hagler's ability to fight them, but due to a distinct difficulty in getting THEM to fight HIM!  As former heavyweight boxing legend Joe Frazier was famously quoted as saying to a young Hagler "You've got three things going against you. You're black, you're southpaw and you're good".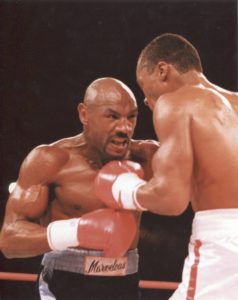 In reality Hagler was clearly also a hero character, a hero for adults, particularly for blue collar adults, which is probably why my father LOVED Hagler so much.
In many ways I see last night's fight as the 21st century equivalent to Leonard vs Hagler. In this fight we also saw a younger welterweight/light-middleweight champion with star quality moving up to face an older, stoic, methodical but mercilessly effective long reigning middleweight champion of tremendous physical and mental strength.  Also, eerily, both Haglar and Golovkin were 35 years old at the time of their respective fights. So I couldn't help wondering if somewhere out there was a kid who was viewing THIS fight with the same level of awe and amazement that I did 30 years ago with Leonard Vs Hagler?
However it's the similarities between how the fights themselves were fought that I find most interesting, more on that later.
With regards to last night's outcome and my opinion on who won and why, allow me to get straight to the point…for me, Canelo consistently out boxed Golovkin from start to finish and landed WAY more high quality eye catching, high scoring power shots from first bell to last.
I did have it relatively close overall at 118-116, but definitely still to Alvarez and not GGG.
Here's why.
Golovkin WAS forcing Alvarez back for most of the fight and also threw way more punches. But there's a huge difference between effective pressure and ineffective pressure, there's a huge difference between throwing a lot of punches and LANDING a lot of punches. The vast majority of the punches Golovkin threw either missed entirely or were blocked, and that's simply a statistical fact.  If we analysis the Compubox Stats we notice a few things.
http://www.boxingscene.com/canelo-vs-golovkin-compubox-punch-stats–120563
Canelo had a higher success rate for total punches thrown over the course of the fight, full stop.
Canelo had a SIGNIFICANTLY higher percentage success rate for power punches (i.e. anything other than a jab) during every single round except the 9th.
Golovkin threw a whopping 200 more punches than Alvarez but only landed about 50 more which actually meant Alvarez ended up with a higher statistical success rate.
The extra 50 total punches landed by Golovkin (albeit at a lower success rate) were composed ENTIRELY of jabs and jabs alone.
Golovkin had a 6.5% mean advantage in the success rate of his jabs thrown. However rounds 4,5,6 and 7 saw him not only out power punched but also HEAVILY out jabbed as well according to the stats (which basically suggests that he was entirely out fought during these 4 rounds).
Alvarez threw 70 less power punches in the fight yet landed 4 more in total for a highly significant 10% success rate advantage in landing what are considered the most significant and meaningful shots of a fight.
In the last 3 rounds of the fight Alvarez MASSIVELY out power punched Golovkin statistically!!
But, a fight isn't simply a slave to raw numbers, it has a heart, it has a soul…and both men certainly bore theirs on this night!  As such, the two most significant non-numeric factors to consider in determining the outcome of a fight are:
The quality of the punches landed
Ring generalship (i.e. ring control).
For me, these two factors split evenly down the middle between these two men in THIS fight. For my money Alvarez CLEARLY landed the most eye catching, higher quality of 'non-jab' punches and he LITERALLY landed these type of punches not only at a far higher relative success rate but also at a higher absolute total volume as well, and that's statistical fact.
But, Golovkin did dominantly controlled the ring throughout most of the action and was almost always the aggressor who pushed Alvarez onto the back foot. HOWEVER…in the sport of boxing, 'aggression' (i.e. pressing the action and pushing the other guy back) only becomes a determining factor in the outcome of the fight if it is deemed to be 'effective aggression'.
For me, consistently missing more than 70% of the punches thrown in a round, mostly landing jabs more than anything else, whilst simultaneously getting nailed by flashy powerful shots from an opponent on the back foot, does NOT define 'effective aggression' relative to what was coming back at him from his opponent.
So why then did so many people see the action, and crucially the outcome, differently to what appears to be the irrefutable facts of the matter? Well, the situation wasn't helped by some of the worst live commentary I've ever seen for an event of this magnitude (I watched the UK Box Nation broad cast, so I can't speak for the US version).
The studio analysis wasn't as bad.  Amir Khan had it close to GGG by quote "1 or 2 rounds" which wasn't outside the realms of possibility and you COULD make an argument for that kind of outcome. I also believe that ex pro Gary 'The Rocket' Lockett thought that Alvarez had won the fight but eventually felt peer pressured into reluctantly saying Golovkin deserved it for his pressure.
But the live commentary team were consistently (and amateurishly) missing the fact that a lot of Golovkin's work was ineffective, praising the pressure and the work rate without stopping to notice that most of the punches were missing while he was simultaneously being caught with solid shots in the process.  Barry Jones was ok I suppose, but he appeared to be being led by the other guy, a non-boxer who didn't seem to have a full understanding of the action he was watching or any appreciation at all for the notion of quality over quantity.
In reality I feel that most people went for Golovkin as the winner for two reasons.
Golovkin being the one coming forward.
Golovkin throwing a lot more shots and landing a bit more (only more jabs)
But in my opinion both those things were negated by the following:
Alvarez's higher success rate overall.
Alvarez's significantly higher success rate on power shots.
Alvarez's higher absolute total of power shots landed.
But most importantly, Alvarez's higher total quality of work (determined as a combination of skill shown in both evading and landing punches coupled with the quality of punches that were landed).
It's here where we again see further parallels between this fight and the Leonard vs Hagler fight of 30 years earlier.
Both Hagler and Golovkin opted to use their size and strength to press forward, pushing their opponent onto the back foot from first bell to last. In this regard it could be argued that Hagler did an even better job than Golovkin because Alvarez forced GGG backwards a few times, but I can't recall Sugar Ray achieving that once on the night he fought Hagler.  Also, both Hagler and Golovkin choose to focus on work rate and did throw more punches than their back peddling opponents. But in THIS regard we can say for sure that Golovkin did a better job vs Alvarez than Hagler did with Leonard as although both men threw more punches than their opponent, it was only Golovkin who actually landed more (50 punches more, made up of only jabs), while Hagler ended up landing less that Sugar Ray, but only 15 punches less mind you.
But it wasn't just Hagler and Golovkin that had similar tactics, Leonard and Alvarez also fought similarly as well.  From pretty much the first bell to the last, both Leonard and Alvarez started each round fast, coasted the middle portion and flurried towards the end of the round.  Again, the predecessor was more effective with this than the current fighter was, with Leonard ending the Hagler fight with a higher overall success rate verses his opponent than Alvarez did (49% Sugar Ray vs 37% Hagler).  Although interestingly both Leonard and Alvarez had dramatically higher power punch success rates than their opponents in the last few rounds (58%-35% for Leonard vs a high of 58.8%-30% for Alvarez).
A lot of people were split over who they thought won the Leonard vs Hagler fight, with most going for Leonard and some going with Hagler. In fact, I would assert that the subjective nature of scoring a boxing match was never more apparent than in the immediate wake of the 1987 Super Fight between Sugar Ray and The Marvellous One.  A debate that rages on between many boxing pundits the world over to this very day, some 30 years later!
For me, Leonard was a very clear winner that night for all the same reasons that I feel Alvarez was a CLOSE winner of last night's encounter (but don't tell my brother I said that, he's a HUGE Sugar Ray fan and I like to annoy him by making an argument for Hager at every family gathering for the past couple of decades).
The fact of the matter was, Sugar Ray had pioneered something new that night.  He showed that it was possible to be in retreat for an entire fight, throw significantly less punches than your opponent, and STILL outscore them through a combination of stealing the judge's eye at the most appropriate junctures (i.e. at the start and finish of a round) and landing a higher quality (and quantity) of flashier more eye catching power shots.  This is PRECISLY the blue print that Alvarez effectively executed last night, albeit not quite as effectively as Leonard had done 30 years earlier, but still effective enough for the win in my opinion.
Last night's fight between Saul 'Canelo' Alvarez and Gennady Gennadyevich Golovkin was almost a reincarnation of Leonard vs Hagler, except the 'Leonard' character was a bit less effective on this occasion and the 'Hagler' character was a bit more effective on this occasion.  But was this enough to justify the utter lunacy of some people seeing this fight for GGG by 6 rounds or more?…Hell no!
Equally so, the judge that saw the fight 118-110 for Alvarez needs to seriously consider pursuing their preverbal 'day job' full-time!  I also agree that a draw was not a good outcome overall.
Having said all of this I genuinely don't want to finish this article focusing on the outcome, I wish instead to spend it focusing on the fight…because WHAT A FIGHT!
Golovkin might as well have knocked on Canelo's dressing room door before the fight and posed the question…"Sarah Conor?" Because he subsequently pursued Alvarez around the ring with the indefatigable relentlessness and invulnerability of Skynet's finest for 12 rounds! His punch resistance and stamina is of mythical proportions.  He boxed well behind his job and while not as effective in landing power shots as Alvarez was, he DID absolutely NAIL Canelo on a few occasions with shots that have put others to sleep in the past.
Which brings me nicely to my next point, Golovkin wasn't the only one who showed amazing durability in this fight, Alvarez also showed an incredible chin in easily taking some of Golovkin's best shots flush on the button, but this was honestly not a surprise to me.  GGG is a very powerful puncher for sure, but upper end world level boxing is a different world to any other. Closer analysis of GGG's record shows that the vast majority of his highlight reel style one punch knockouts came at a much lower level.
At upper end world level he doesn't, and hasn't, taken out the very best with one punch, or even two.  He generally hurts them and wears them down accumulatively over several rounds, then a few multi punch combinations that land will see his opponent eventually wilt to the canvas, as opposed to being nailed to it out of the blue with one punch. He's simply NOT a one punch KO artist at the very upper end of world level boxing in the same way that Tommy Hearns or Julian Jackson was, no way.
This coupled with the fact that Canelo has a head like a cement block and a neck like Mike Tyson led me to what turned out to be an accurate conclusion. Namely that GGG would not have the power to KO Alvarez highlight reel style and as long as he didn't take too many, Alvarez would be able to comfortably absorb the flush shots that Golovkin did land.
Now let's take a second and talk about the overall quality of the action from both men and the work rate maintained throughout.  WOW…just WOW with regards to the quality of work and the conditioning levels of both guys for the same and different reasons!  Golovkin threw a LOT of shots, what's more he also missed a LOT of shots, and far from being a slight at his performance I feel he deserves tremendous credit for not tiring under those conditions and for never taking his foot off the pedal even once in 36 intense minutes of world class action!  He also took shots with ease that would've dropped a horse, this too has a HUGE effect of how your conditioning holds up, but his held up just fine regardless!  He was also very measured and composed throughout and I honestly feel he boxed magnificently.
Canelo's conditioning held up under the most intense pressure of his career by a MILE!  Being walked down in the manner that Golovkin imposed on Alvarez is potentially heart breaking and VERY tiring, yet he coped with it astonishingly well, especially considering his age and the fact that this was his first big fight at middleweight.  I feel Canelo also kept his composure really well and showed what can only be described as inspired defensive skills at times, as well as tremendous footwork.
The pace that both men fought at without losing quality of work was super human!  In the ring this fight truly was a shining example of boxing at its best, but conversely, the verdict (along with Byrd's curiously lopsided score card) may have been an example of the worst parts of the sport.
So, the rematch now beckons and I for one look forward to the prospect of that with bated breath. Who will win? Well, either man could improve their performance next time by making a few adjustments.  If Golovkin had used all the jabs, that was he was having no trouble in landing, to help set up more work to the body (then from THERE bring shots up to the head) I feel that this coupled with the constant forward pressure he employed may have been too much for Canelo to weather. More body shots off of the jab would've taken Canelo's legs away more, which would've impacted his movement and ultimately his overall effectiveness tremendously.
I feel Canelo did do enough to win this one, but to make it even more decisive next time he could take the centre of the ring more in the re-match and push GGG back. He showed flashes of the ability to do this in the fight, but clearly these spurts were not part of the original game plan and as such he always quickly defaulted back to the script soon after any toe-to-toe exchanges took place.
Of course, pushing GGG back more often is easier said than done.
To help achieve this he will have to pattern it in a very specific way during an extended training camp that should include sparring light-heavyweights that are the same height as Golovkin but heavier and stronger.  These spars should start off only a few rounds at first and build up over time. They should emphasis the new game plan of come forward and push his man back during these spars and use the time they have to refine that as needed.  Based on what I saw in last night's fight I believe he COULD pull this off and surprise a lot of people in the process, not least Golovkin, by winning very widely on points through mixing this come forward approach with 'recovery periods' of boxing effectively on the back foot from time to time as needed.
However one point that I do feel compelled to make at this stage is that while the fight in the ring was close, both fighter's POST fight personal conduct DID produce a clear and decisive winner, which for me was GGG.  Seldom have I witnessed such true class and humility from a man of such extreme talent, ability and stature!  He refused to lower himself to slighting Alvarez despite the best efforts of Max Kellerman to goad him into it.  Don't get me wrong Canelo wasn't overly disrespectful towards anyone but there was simply an unshakable aura of integrity that emanated from Golovkin and seemed to elevate him to a different level of dignity at every verbal exchange.
The bottom line for me was 118-116 Alvarez victory. If this is way off where YOU had the result, read all the points above one more time and humour me by taking part in a fun experiment, watch the fight again…this time with the sound off.  Try and slow down the action in your mind, if not on the actual T.V, and watch what happens every time GGG pushes Alvarez back to the ropes, observe how many shots he actually misses and watch the sheer quality difference in Alvarez's defence and attack.
I will conclude by saying that no matter what your views on the outcome of last night's fight is, or whatever your opinion on what will happen in the re-match may be, there exists two things that we can all universally agree on.
This fight was a display of world class boxing at its very best!
We wouldn't mind seeing it again!